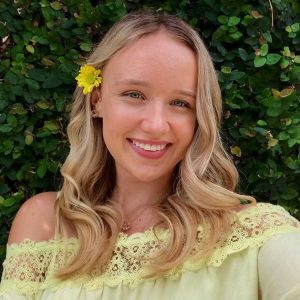 Congratulations to the 2018-2019 Black Faculty and Staff Association 'Mentee of the Year' Award Winner, Rebecca Vollmann! Rebecca has been a dedicated member of the UCF EXCEL program since she started at UCF in 2016. During her second year at UCF, Rebecca began mentoring women entering the EXCEL program and has aided in increasing the retention rates of women in the STEM disciplines. Along with these achievements, Rebecca's mentorship in the WISE program at UCF has set her apart from other students and led to her nomination for the BFSA 'Mentee of the Year' Award. Rebecca sets challenging goals for herself with the help of her mentors and this quality has helped her to truly excel at UCF.
Every opportunity Rebecca takes at UCF has allowed for her to partake in even greater opportunities off-campus. She attended the Empowering Women Summit hosted by Mitsubishi Hitachi Power Systems, where the GEMS program received a kind donation. Rebecca was also an invited guest to a VIP breakfast hosted for the United Launch Alliance CEO, Mr. Bruno, and was also invited to be a guest at a luncheon for Dr. Nair, the Deputy Director for Basic Research within the Office of the Secretary of Defense. Rebecca's invitations to these events are a reflection of her hard work within her major and what makes her an excellent STEM representative at UCF. Along with the many opportunities she is engaged in with her major, Rebecca also enjoys participating in volunteer opportunities, such as Habitat for Humanity. Congratulations on the award, Rebecca!
You can check out Rebecca's article on The Value of Diversity in STEM.