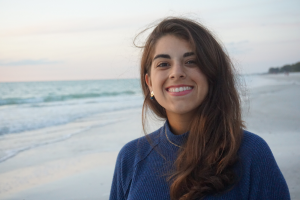 Congratulations to Maria Urdaneta for winning 1st place in UCF CECS's Virtual Fall 2020 Senior Design showcase in the MAE department!
Maria and her team designed and built a CNC router for future senior design students in the CECS department. This router is a 3-Axis cutting tool where the material is secured to the machine. Then, g-code (cutting instructions generated from a CAM program like Fusion360) is sent to the machine. This tells the router exactly how to cut away the material. The machine is portable and can be easily wheeled around and fit through doors. It can cut materials like wood, soft aluminum, printed circuit boards, and has future capability to cut carbon fiber and foam. The router will allow future senior design projects to have access to professional manufacturing methods!
Some of the project's biggest successes included fundraising $5,000 when the budget given was only $350, the comprehensive nature of the engineering analyses done on the project and extensive documentation generated; all of this achieved despite the logistical challenges of a pandemic.
Maria recently graduated and will be pursuing Biomedical Engineering – Biomechanics at UCF!