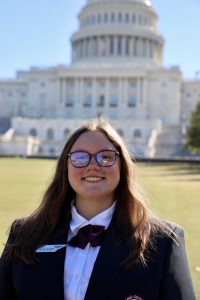 Lillian is a sophomore double majoring in Biomedical Sciences and History. When coming into college Lillian was very nervous coming into such a large university since she is from a small town in Tennessee. However, EXCEL helped with the anxiety and she is grateful for the friends and opportunities she has had through EXCEL's guidance in and out of the classroom.
As well as being in EXCEL, Lillian is also in Phi Delta Epsilon (PhiDE), one of the oldest co-ed pre-med and medical fraternities internationally. She lives by PhiDE's motto: Facta Non Verba or Deeds Not Words.
In Fall 2023 Lillian will have the opportunity to be one of the Resident Assistants for the EXCEL LLC. Through this new position she hopes to use prior experiences with the program, and in PhiDE to be a role model for her residents.