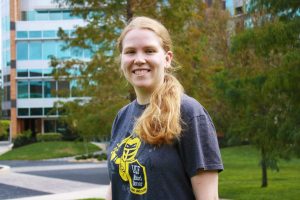 Clara Poffenberger is a fourth-year Mechanical Engineering Student. She credits COMPASS and EXCEL with her academic success, growing her math skills, and starting her research interest.
Clara is always seeking out new experiences and challenging herself. Inspired by EXCEL's research program, Clara pursued research earlier than most sophomore students. Starting the summer before and continuing into her sophomore fall semester, Clara volunteered at Siemens Energy Center researching turbine blade impingement cooling. She learned hands-on skills and was introduced to turbines, which she now hopes to work on in her career. In the spring of her sophomore year, Clara transitioned into a year-long CWEP position, working with systems engineers a Lockheed Martin. She also has pursued an International Engineering minor, studying abroad in England during Spring 2020. Starting Spring 2021, Clara is excited to be going back to Siemens Energy Center as an undergraduate researcher working on cooling for sCO2 turbine blades.
Throughout her four years at UCF, Clara has been an active Student Committee member of the Engineering Leadership and Innovation Institute (eli2). Most recently, she is serving as Research Lead for Project Re_Mask. This project aims to create and test a UVC PPE decontamination device to be used in rural hospitals or places in need. She is excited to announce that this project is the basis for a new National Design Challenge that will be held during UCF's Engineers Week to opensource the design and crowdsource production.
Overall, in her words, "I would not have been able to pursue all these opportunities without the solid foundation that EXCEL helped me build. My time in COMPASS and EXCEL vastly improved my math and study skills as well as my confidence in myself and my major."