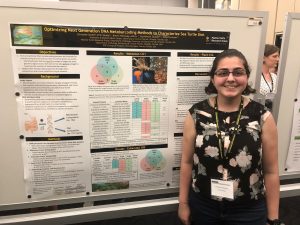 Christine Sarkis is currently a senior majoring in Biology with a minor in Environmental Studies. Christine is in her fourth year being involved with EXCEL. This is her fourth semester as a Learning Assistant for the EXCEL Calculus 1 course. She credits the experience she gained as an LA as the reason for her interest in teaching and pursuing a career as a science educator after she graduates. In addition, she served as a GEMS mentor during the 2018-2019 school year, supporting incoming females in their pursuit in STEM.
Since her freshman year, Christine has been involved in research, analyzing genomic methods for determining the diet of green sea turtles. She has presented at national and international conferences and was awarded Judge's Choice at UCF SURE 2019. She is excited to be investigating this new method for diet identification in marine sea turtles.
She is thankful for the amazing opportunities she has had and the awesome people she has met, while participating in the EXCEL program.