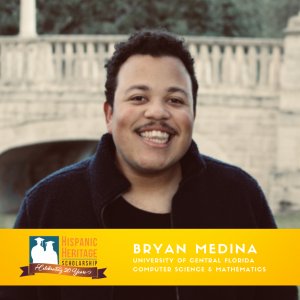 Bryan Medina is a member of EXCEL, double majoring in computer science and mathematics at the University of Central Florida.
Bryan hopes to one day become an auditory neuroscientist so that he can study how we as people listen to and understand the sounds around us. To study this, he is a visiting researcher leading a project in the Laboratory for Computational Audition at the Massachusetts Institute of Technology (MIT).
Bryan plans to continue his research at the doctoral level and one day receive a Ph.D. from MIT in Brain and Cognitive Sciences. As the first person in his family to earn a college degree, he hopes to serve as an inspiration for other family members and of minority communities.
Congratulations Bryan!  You can check out his story further at: https://www.ucf.edu/news/from-playing-music-in-miami-to-studying-neuroscience-at-mit/.