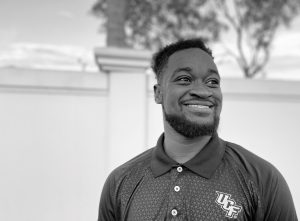 EXCEL has created a seamless transition for me from high school to college," says Loubensky Baine, a second-year Aerospace Engineering student. "Joining the program my freshman year was a decision that really helped me grow. Having the opportunity to be in smaller classes with familiar faces made it easy for me to make friends and connect with UCF faculty and staff." Loubensky believes networking and building connections are two very important things in life. As a member of the EXCEL program, he has had many opportunities to participate in activities that encourage socialization and team building among members. Loubensky says his favorite resource provided by the program is the study lab.
Loubensky has taken it upon himself to be an active member on campus. During his freshman year, he was a member of the National Society of Black Engineers and the Society of Automotive Engineers. Alongside his participation in on-campus organizations, Loubensky serves as a Calculus I Learning Assistant for EXCEL. His academic merits include being a "Top-Ten Knight", being a recipient of the M.A.S.S Award of Excellence, making the Dean's List and earning President's Honor Roll. Most recently, Loubensky was named a Patti Grace Smith Fellow and a Matthew Isakowitz Fellow, selected from a nationwide pool. He is the first UCF student to be awarded a fellowship twice.  During his free time, Loubensky is either playing guitar or playing sports with his friends. He supports our Knights by visiting their games when they play.
Upon graduation, Loubensky will start flight training in pursuit of accomplishing his childhood dream of becoming a commercial airline pilot. Life permitting, Loubensky would also like to return to school for his Master's Degree in Aerospace Engineering. He hopes to someday land internships with major Aerospace companies like Raytheon, The Boeing Company, NASA, and Lockheed Martin.