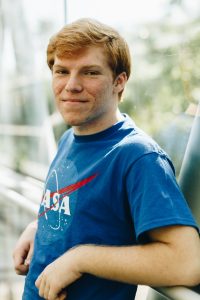 Moses Hinrichsen is studying Aerospace Engineering. He is a second year EXCEL student, and lived in the LLC during his freshman year. He has been very happy to make new friends through the program, and opportunities to advance my educational and professional abilities. As a member of EXCEL and the LLC he has been able to participate and enjoy social activities put on by the EXCEL LLC Mentors.   This year, Moses will be serving as a COMPASS mentor for the program.
Other than EXCEL, Moses is a Student Committee Member of ELi2, an Outreach Officer on the Internal Affairs Committee of SEDS-UCF, a member of First Step, along with being a member of the Society of Sales Engineers. In his capacity as a member of the Student Committee Member of ELi2 and Outreach Officer of SEDS-UCF, he works with other student to encourage others to pursue and enjoy Engineering, and volunteers with both groups. 
His awards include "Top Ten Knights", earning the rank of Eagle Scout, and Earning the "Dr. Bernard Harris Super Nova Award".  In his free time he works on personal engineering projects from homemade rockets, too building a surfboard from scratch along with his inventions.  After he graduates he wants to pursue a Ph.D in Aerospace Engineering and eventually apply for the astronaut corp.
Check out some of Moses work here.