The Air Forc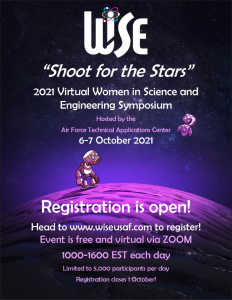 e Technical Applications Center's (AFTAC) invites you and your organization to the FREE Virtual Women in Science and Engineering Symposium (WiSE), scheduled for October 6-7 2021!
The symposium is an initiative the Air Force Technical Applications Center instituted in 2013 to emphasize and highlight the value gender diversity brings to the Science, Technology, Engineering and Mathematics (STEM) fields of study, with a concentration on inspiring more women into the STEM workforce. We are extremely excited for the opportunity to host your organization at this year's event!  
For 2021, AFTAC's focus for the WiSE Symposium is to inspire the next generation of STEM professionals through interactive demonstrations and inspirational speakers. The symposium is geared toward students and professionals of all ages. Participants will hear from, and have an opportunity to engage with, current and former Air Force and Department of Defense leaders, representatives of leading defense agencies, speakers from local organizations, and educators from several universities. 
Please visit https://www.wiseusaf.com/ to register. We welcome and encourage additional distribution to anyone interested. This event is open to the public and not limited to women—all are welcome!